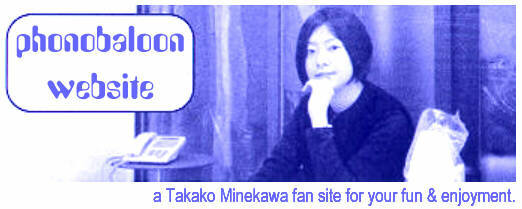 Hello, I am Evan and I am a Takako Minekawa enthusiast. I got into her music back in December of '98 and was hooked instantly. I decided to make this fan website after seeing that there aren't all that many English language sites dedicated to Takako, and she deserves more attention and credit outside of Japan. I encourage you to explore this site, and if you like it, don't hesitate to tell other Takako fans about it :-) You can find out more info about this site in the site info page. If you have any interest in finding out about me or any of my other web sites, go to my webhub.
last updated: March 3rd, 2003
note: yes, I realize that I don't update this site too often, nowadays. I haven't forgotten, mind you. I just haven't really heard much of any TM-related news in while. When I get some new info, you'll see it here. In the meantime, this shall keep serving as a resource for those who wish to learn about Takako Minekawa's music.