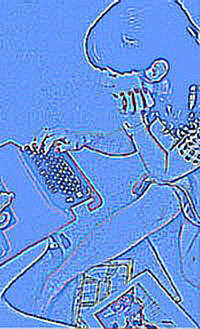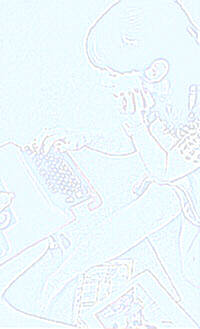 Takako Minekawa (

), was born on June 3rd, 1969, in Japan. She was a movie and tv star as a child, and as such, she had a hard time regularly attending class, and was teased. She eventually enrolled in a private school for child actors, but didn't quite fit in there, either, as she took a much more focused view on life than a lot of her peers. Due to the loner lifestyle she lived as a child, she grew up as a very independent individual. As a child, she took piano lessons, and developed, from an early age, quite a skill with keyboard instruments. One day her mother bought her a Casio keyboard / calculator combination, and it was with this toy that she began to love pressing buttons and turning knobs, and she learned to enjoy sound, in itself. Takako can also play guitar, but most of her work on her albums focuses on keyboard and vocal technique. Upon entering college, Takako developed an affinity for French music. She and a friend soon formed a group called Lolita. Her real live debut however, was in1990, as a member of the group Fancy Face Groovy Name, a band in which she shared membership with the now-popular Kahimi Karie. She was also in a band called L <-> R for a while. For a period of time after that, she went from band to band, playing a small role in each, until she released her solo debut Chat Chat, a cute album compromised mainly of cover songs (including the Beatle's "Drive My Car"), in 1994. She traveled to New York City later that year to record with NRBQ for her Christmas album, A Little Touch of Baroque in the Winter, that was released by Polystar records in Japan. In 1996, she released Roomic Cube, an album that went on to receive rave reviews, and decent success (CMJ top 20 college radio charts). It was produced by the Japanese band Buffalo Daughter, and they were featured on about half the tracks on the album. Soon after, in 1997, Takako released Athletica EP, on which she collaborated with ex A.D.S. guitarist Yasuo Takai. This CD was an experiment with metronomes, and was also more beat-oriented than most of Takako's material. After that came her next full length LP: Cloudy Cloud Calculator. This album was produced entirely by Takako, and she took full control, and went even farther with her eclectic music stylings. Her next release was entitled Recubed, a remix CD containing tracks off of Roomic Cube, as remixed by various skilled artists, including Buffalo Daughter. Following Recubed., she released a remix album for Cloudy Cloud Calculator, XIMER, featuring remixes by an array of talented folk, including Cornelius, the talented Trattoria artist who also happens to be Takako's romantic interest. As of this writing, she has just finished up her latest LP, Fun 9, which was released in July of 1999. She produced the majority of the album, but Cornelius guest-produced three tracks, and Sukia did three also. Michiko Endo from Citrus also helps out on two of the tracks.

Takako Minekawa loves many things... cats, clouds, Kraftwerk, French pop music, French movies, and she has an obsession with the color white. All of these show through in her unique music. She, as a person, is quite unique in the fact that socially, she's very shy, but through her music, she is very bold and experimental, always trying things never done before. Her music combines many different elements, ranging from her adoration of Kraftwerk, to her inclusion of French pop-ish elements into the mix. All around, her music is very relaxing... Something you can sit back, pop into the stereo, and think to... but believe me, just because it's calming, doesn't make it boring. Rather, Takako's music is some of the most interesting music I've ever heard. Her role as a female musician in Japan is a unique one. She has a beautiful sing-song voice, and soft beautiful looks, seemingly perfect to be an idol-type singer, but rather than doing that, she is constantly branching off in new directions, and doing what she wants to do.

When not working on her music, Takako writes a regular column in Keyboard Magazine, writes a serialized novel for the anthology magazine Bungei, and frequently appears on the covers of Japanese indy music magazines. ...and while she has (as far as I know) not returned to acting as she did as a child, she has had some involvement with TV. Ever see those Sony Playstation ads where a girl says "Playstation" at the end of the commercial? That's Takako!

Takako has been quite prolific in the few years that she's been working solo, and she's been making some truly inspiring music, and in my opinion, some of the best stuff out there.